says Emma Dennis-Knieriem, a student in Junior Session (trumpet/clarinet/bassoon 2010–2013) and in Senior Session (bassoon, 2014–2017). "Actually," she adds, "I'm 18 and have been at Kinhaven for one more year than I am old."
Now a freshman at Brown University, Emma continues to play bassoon in a wind quintet and orchestra. Emma's parents, Junior Session Co-directors Sandy Dennis and Marty Knieriem, have taught at Kinhaven since before she was born. "It was wonderful and supportive to have the faculty and staff watching me grow up over the years," she says.
Emma didn't like practicing when she first started on cello at age five, so they went to the Vermont Country Store and bought a Whoopee Cushion. "So I'd stand up and play a line, then sit down and make a horrible noise." After switching from cello to trumpet, Emma moved to clarinet, and then the bassoon came into the mix, which "really vibed with my personality." She's been a bassoonist ever since.
"Being at Kinhaven was wonderful," Emma says, "but Junior and Senior sessions were wonderful in completely different ways." The staff at Junior Session are more hands on, "like a very close family," whereas at Senior Session, the faculty are "more like guides and a little more formal." And because the students are older and more advanced, "Senior faculty concerts were a way bigger deal – they're longer and more sophisticated and we'd get really into it."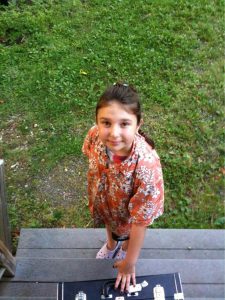 "Because my moms taught at Junior Session, it was awkward for a few years as a camper. I'd want to create an identity of my own, so I'd say I had a different last name so no one would know we were related," she says. But by the end of two weeks she'd have told all her friends who her parents were. "I wanted to be associated with them and was proud to be their daughter."
With all the years she'd spent at Kinhaven, Emma was able to help out struggling kids. "I'd notice the homesick ones and reach out, and on the last day of camp, kids would come up and say how welcoming I was and how I helped them feel at home."
Emma has fond memories of the Bidlacks. "When I was little I would hang out in the staff kitchen, and the year before I was eligible for Junior Session I asked Nancy whether I should audition – I hadn't played trumpet for very long. She said "You should wait another year, because by that time you're gonna sound hot!"
She remembers that Jerry would fondly berate the cellos at orchestra. "Cellos! You should all go drive taxi cabs, because you can't count your way out of a paper bag." He'd also mock-yell at the altos. "So if you were both a cellist and an alto you were in for it."
Emma says she's been lucky to have been a part of many musical communities. "But Kinhaven is the one that holds to a very high level of music and cares about you as an individual. I feel like I left as a different person each year because I grew both musically and personally."