Kinhaven Made Me Look Further
Achilles Liarmakopoulos (Jr Session 1998) was playing in the Athens Youth Symphony Orchestra in 1997, a time, he says, when there were not a lot of trombonists in Greece. "Many people didn't even know what the trombone was!" he says.
Through a series of coincidences – the orchestra's supervisor, Nancy Bargerstock, was a close friend of Kinhaven Co-director Nancy Bidlack, and Nancy happened to be visiting Athens – Achilles auditioned to join Kinhaven.
A short time later, with a scholarship from Kinhaven and a plane ticket from his uncle, Achilles found himself thousands of miles away from home at Kinhaven, his first time away from his family. His earliest memory was of "my first close encounter with a snake on the first day and then the terror of the complete darkness at night in the cabin." But he soon felt happy in his new home.
One of Achilles's favorite memories was practicing outside under the trees. Nate Reit, who also attended Kinhaven that year (and now trombone faculty for the Junior Session), says, "I remember he would play outside on the sitting hill. The girls would gather to listen, admiring him. As did we all!" Nate further recalls that "At age 10 I didn't really have a developed ear on who the finest players were, but I knew right away that Achilles was one of them. We were tuning before an orchestra concert, and I played and held our tuning note. Then trombone faculty Rob Blaine motioned for Achilles to play. I remember hearing my sound get louder. Not the usual distinct difference of another student finding sound and intonation. He had simply joined the sound. I had never witnessed that before!"
Since completing his studies at Yale University School of Music, the Curtis Institute of Music, the San Francisco Conservatory, and the Philippos Nakas Conservatory in Athens, Achilles has been very busy. A member of the famed Canadian Brass quintet since 2011, he travels globally, performing 70 to 80 shows a year. He also tours with Pink Martini and is a member of Novus New York, Trinity Church Wall Street's contemporary music orchestra.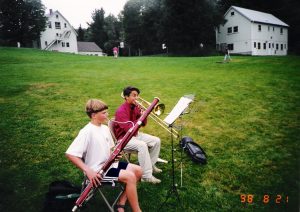 He has also completed several of his own projects, including the solo albums Tango Distinto, the first album to appear with Astor Piazzolla's music played by solo trombone, Trombone Atrevido, a recording of Brazilian choros, and Ethereal, a collection of contemporary lyrical works from around the world. Most recently he is working on a new album with Venezuelan musicians in a group called Cuatrombón.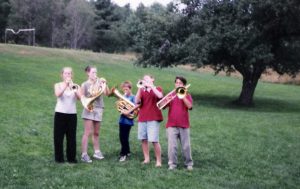 Achilles says Kinhaven was life-changing: "It was the first time I was next to kids my age who had so much love and passion for what they were doing. What's nicer than that! Since then it became my dream to return to the United States and study. Kinhaven made me look further."
To parents considering sending their children to Kinhaven, Achilles definitely says that it will become their child's unforgettable memory. "It will stay with them forever, inspire them to be good musicians, or if not, inspire them to be better people.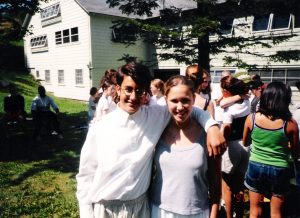 To learn more about Achilles or listen to his music, visit his website: www.achillestrombone.com.