The Path to a Pulitzer Begins in the Art Cabin
Caroline Shaw (violin, '97–'98) spent two life-changing summers playing chamber music at Kinhaven, which is probably why she prefers to perform barefoot whenever possible. In 2013 Caroline was the youngest winner ever of the Pulitzer Prize for composition, awarded for Partita, a four-movement work for vocal octet. Today she performs, composes, and teaches at various venues throughout the country.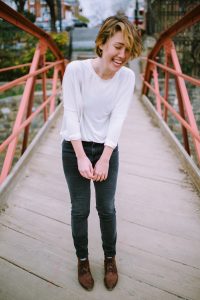 Caroline says Kinhaven built her self-confidence, musically and in other ways. "It gave me the openness and space to explore new things, including painting, music, and poetry, all under the guise of being a chamber music school." She adds that the program also develops goodwill: "Kindness and encouragement are the bedrock, which is one of the most beautiful things about Kinhaven."
One of her favorite places was the art cabin. "I think I spent more time there than anyone else," she says. She'd read the graffiti scrawled in every corner and sometimes add her own "teen, angsty things." Her favorite spot there was the loft. "I'd spend every afternoon there, and that's where I wrote my first composition, for viola and piano." The composition was performed that summer, and the encouragement that recognition provided played a big role in her decision to become a composer. "It wouldn't be an exaggeration to say it all started that afternoon in the art cabin loft," she says.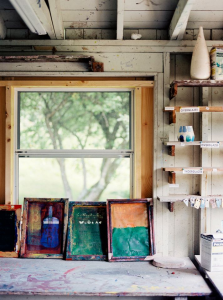 Caroline's fondest memories are of sitting on the hill, writing letters, talking to people about nonmusical things, grilled cheese and tomato soup days, singing around the pond at night, and the constant potential for singing throughout the day. In fact, Caroline's interest in singing was formed at Kinhaven. The Bach chorale, Now All the Woods Are Sleeping,"is one of my favorite things in the whole world," she says, adding, "many times it was the last thing we sang at night."
When Caroline and Kinhaven classmate and best friend Kate Sheeran (horn '96–'98) get together, they often wonder how they can make life at U.S. conservatories more like Kinhaven. They think singing has a lot to do with it. "When a group of instrumentalists sings together every day it removes the competitiveness. It has nothing to do about who sits where in the orchestra. I talk about this all the time in my visits. Singing together erases so many differences," she says.
Kinhaven's mission, the faculty, and what Caroline calls "the vibe of the place" move competiveness way down on the priority list and encourage a sense of community music-making. That's something she would like to see every music program aspire to.
To learn more about Caroline Shaw or get in touch, visit carolineshaw.com.
Both photos of Caroline by Kait Moreno.