Every Village Has a Different Swing on Its Dances!
"To dance is part of being a musician," says viola faculty Kenneth Kwo. "If you can feel a rhythm, you can dance." As Kinhaven's resident folk-dance teacher, Ken can tell whether it will be a good year for the orchestra by listening to campers' feet: "If they listen, keep time, and not get too caught up in things, it's going to be good."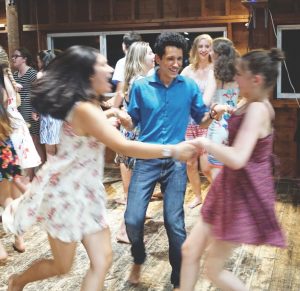 Folk dancing has been a camp tradition for at least 50 years. When Bruce Adolphe (piano and bassoon) attended in 1969, there was already a dancing tradition, but it was usually square dancing or social dancing. Bruce's parents were professional folk dancers during the summer months, traveling throughout the northeast to various hotels and camps (including Kinhaven) and introducing dances from around the world. They amassed an enormous collection of folk music from Israel, Russia, Hungary, and other countries on 45 rpm records. Bruce's father had died by 1969, so when Bruce's mother saw that Kinhaven had enthusiastically adopted folk dancing, she donated a large part of the record collection. "She and I taught a few dances, and others were well known," he says.
At first staff played the 45s, then the music was transferred to tape, and finally it was digitized. Some of the recordings are still being used. "I was floored when I heard them, because this folk-dance music was part of my childhood, even before Kinhaven. I grew up with them," Bruce says.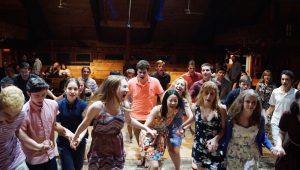 Ken has taught viola at Kinhaven for 25 years and nurtured the folk dancing tradition for more than 20 of them, teaching the dances to both Junior- and Senior-Session campers. A folk dancer by hobby, Ken says the collection of recordings has been whittled down to about a dozen. He took over when a head activities counselor left, and Nancy Bidlack asked him to take on the activity. "It was hard for counselors to teach, so I copied the instructions from my own very good teacher, and I'd go about it in an hour and a half," he says.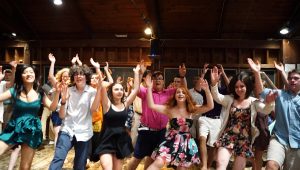 In Ken's view, getting the dances perfect is not as important as keeping the rhythm and time. Thus, to a "real" folk dancer, some of Kinhaven's alterations might look strange. "Once we returned one of our dances to its original form, and it went from clockwise to counterclockwise," he says, adding, "People were bumping into each other." "But," he laughs, "Every village has a different swing on its dances!"
Folk dancing at Kinhaven fulfills a practical need, taking place after faculty concerts, which require students to focus intensively for an extended (sometimes two-hour) period. After the usual morning musical activities, an afternoon activity (Regatta, scavenger hunt, trip to Manchester, etc.), supper, and the concert, winding the long day down with folk-dancing helps students release energy, relieve some stress, and kick off the weekend with something celebratory. "They are truly having the time of their life," Ken says. "It bowls the parents over when they see that."
All Photos: Martin Jacobs