Kinhaven Is Home for Me
The US Army announced this March that Staff Sergeant Nicole Daley of the 82nd Airborne Division Band will represent US Army Music Careers at the International Women's Brass Conference in May in an all-women brass quintet.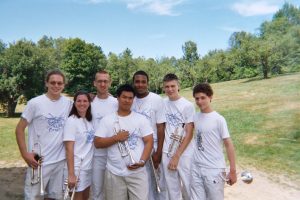 Nikki (trumpet, Senior '01; staff '03–'14) told us the Army Band is trying to recruit and promote more women into the ranks – and that they need to. During her eight years of service, with the exception of a short period in Germany, Nikki has been the only woman in the 11-member trumpet section. "So the Army really wants to show that this is an option for women," she said.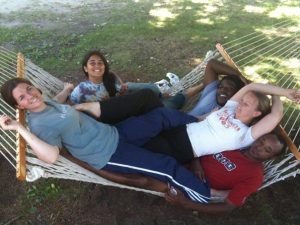 Because Nikki's first summer in Kinhaven was a last-minute arrangement, so she wasn't sure what to expect. But she soon realized it was not just about practicing: "It was the togetherness, the creation of a whole person. What a breath of fresh air that was. It made you want to be there, to be better at everything."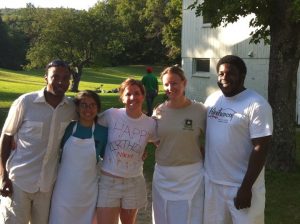 Nikki spent much of her spare time outside of practice and rehearsals at Kinhaven helping in the kitchen. Later, she worked with many of the same cooks as paid kitchen and general staff during 18 Junior, Senior, and Adult Chamber Music sessions.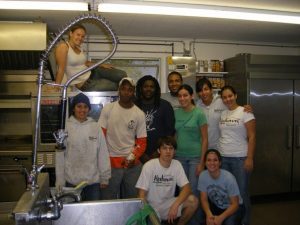 Nikki didn't come from an overly competitive musical environment, but she attended another music camp for three years and appreciated Kinhaven's emphasis on making well-rounded human beings. "My ultimate favorite activity was the folk dancing," she says. "When it was over, I'd know the exact number of days and hours until the next one."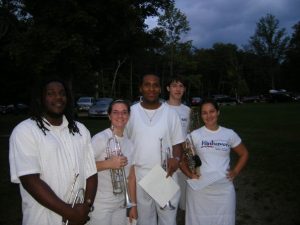 Musically, Kinhaven introduced Nikki to music outside of the quintets and choirs that are typical of the brass chamber repertoire. She remembers another girl who played trumpet at Kinhaven during her time (Rachel Simon, Junior '98, Senior '99–'03). "So Kinhaven was where, for the first time, I had another female colleague," she says.
Life in the Army Band is unpredictable, with various rehearsals for band; additional rehearsals for marching and concert bands; and side gigs as a teacher and orchestral and chamber group performer. A highlight of Nikki's career was playing for President Obama in 2013, when he visited Fort Bragg, North Carolina where Nikki is based. "We played 'Hail to the Chief,' of course, and then music for the troops who were waiting for the President's speech."
"Kinhaven is home for me," Nikki says: "I feel at home as soon as I get there each year."