A Powerful and Personal Transformation
Nancy Bidlack inaugurated Kinhaven's two-week Junior Session in 1990 as an experiment, and staff were feeling their way at first. That was Rob Blaine's first year as trombone faculty, which was doubly disorienting, because he had just spent a season in the Dominican Republic playing for the National Symphony. "Going from the DR to Kinhaven was like traveling through three worlds at the same time," he recalls.
But he also remembers being impressed by the kids, who were "incredibly interesting, talented, and mature for their age." Teaching at Kinhaven opened Rob's eyes, giving him the idea to go back to school and become a professor. "Seeing the transformation in the kids over such a short amount of time was so powerful and personal, and that remains with me today," he says.
One of Kinhaven's traditions is that everyone leaves the Concert Hall in silence after the final concert, so all the final speeches are given beforehand. Rob remembers saying one year that Jerry and Nancy Bidlack, Kinhaven's then directors, were like alchemists: "They made this special transformative magic happen."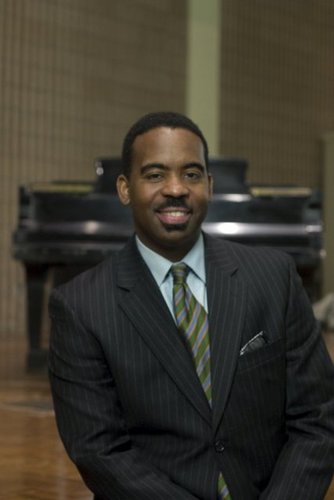 Now chief administrative officer of the city of Jackson, Mississippi, Rob is not performing as often as he'd like, although he is still conducting, including Mississippi All-State. The transformation from Jackson State University professor to city administrator was gradual. He was teaching and directing the orchestra program, then took on more responsibility and administrative duties until finally he was overseeing the university's reaccreditation. "That was when the Kinhaven and professional worlds began to collide," Rob says. "I reached a point where I couldn't manage both schedules," and so he left Kinhaven after the 2011 Junior Session and 20 years of service.
Rob's sons Robert (cello, '10–13) and Christopher grew up at Kinhaven, having been there from the time they were born. As a first-year student at age 10, Robert was the youngest camper. Nancy Bidlack worried about that at first. "But after a while, she said, 'You know what? He really belongs here!' And he loved it."
Rob kept apprised of Kinhaven's goings on through his son and contacts with Co-executive Directors Tony Mazzocchi and Deborah Buck. "Everything I've seen from Tony and Debbie is a continuation of Kinhaven's best traditions and growth in new areas, like master classes and composers in residence. These are the things you find at much larger festivals aimed at older musicians."
Rob observes that Kinhaven's focus on chamber music and the attention to forming groups, putting kids together, and choosing the pieces is very sophisticated. "The staff's knowledge of the repertoire, the kids, and where and when to challenge them is so deep. I've never seen that before. And with orchestra, singing, and activities, this is an experience you won't find anywhere else."